Children don't get in the way, they are the way.

​I leaped from deep sleep, to meditation, to being jolted back to consciousness by my toddler. She has a way of waking me up, this little one, always grounding me back to my reality. I realized, we don't always have to seek growth from spending time away on a retreat in an ashram or some spirituality center. Everyday life especially as a full-time mother is a spiritual practice. It's like yoga off the mat, like meditation sans the lotus pose. Our children are our drishti, our mantra, our aum.

​Just before this, I caught myself thinking again about my life being put on hold as I care for my daughter. I thought about the possibility of being pregnant again and thought about my life being put on hold even further. And then I thought, but what am I putting on hold? What do I want to do anyway? This is my life. Now. What am I waiting for? Why am I not living it?
---
Powered by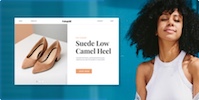 Create your own unique website with customizable templates.