Dear fellow mom/mom-at-heart,
Thank you for being in this space.

While I write as a part of my process, I am grateful if any mom resonates with what I share here. I am learning for myself how sitting down and writing when I feel a particular heaviness or tension in my body, allows such heaviness or tension to dissipate without me having to try. So I write. About whatever I learn from sitting through fear, sadness, or anxiety, as I watch it turn into ease.
​
​I write too to honor moments of joy as a way of showing gratitude; as a time stamp, a reminder that I've been here before and I can be here again. I realize that the motherhood journey is not a pursuit of picture-perfect happiness, but one of feeling through the full-spectrum--through the ebbs and flows that come with caring for a new life. ​Perhaps this is how we get to own motherhood. To own life.
​I encourage you to write too. And write me
here
if you feel so inclined. Would love to hear about your stories.
---
Loving out loud,
Tata Pangan
---
---
Powered by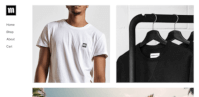 Create your own unique website with customizable templates.